Are you looking for a pet monkey?  Primatecare.com provides the largest trusted network of primate sellers.   Most primates on this site are sold rather quickly due to our wide reach.  Future primate owners, make sure to educate yourself thoroughly prior to getting a monkey.   This site provides a lot of information related to primate care, but it's important you research beyond these walls and talk or if possible spent time with current primate owners.
SELLING A PRIMATE?  Create your ad
BABY CAPUCHINS! WELCOME TO CAPUCHIN WORLD! YOUR CAPUCHIN SPECIALISTS!


Updated August 21,, 2016

Pic 1- Baby Male Black Cap Capuchin-- Photo-1

Pic 2- Baby Female Black Cap Capuchin-- Photo 2

Pic 3- Baby Male Brazilian Black Cap - Photo 3
.
*The specific babies pictured above are now ready for placement and are available as of this posting as are some others . Kindly call for more details. * Photos taken today.

WE HAVE THE HIGHEST QUALITY, BEST SOCIALIZED BABIES AVAILABLE AND THE MOST COMPREHENSIVE AFTER-SALE SUPPORT PROGRAM AVAILABLE INCLUDING TRAINING TECHNIQUES, DIET PREP AND INFO, CAGE DESIGN, and ALL FACETS OF CARE.

**INCLUDED WITH EACH BABY PLACED IS FREE LIFETIME VETERINARY CONSULTATION
and MONKEY COLLEGE 101 COURSE**

Our monkey parent breeders were carefully selected for health, beauty, a stable loving temperament, ability to train and these traits are passed on to the babies born and carefully raised in our home. We will only sell our babies to good homes.

WE PROVIDE FULL ONGOING AFTER SALE SUPPORT.

Babies are bottle-fed and carefully guided to insure maximum human bonding and SWEETNESS!

HUMAN SOCIALIZED BOTTLE BABIES-READY TO JOIN YOUR FAMILY

Male Black Cap or Tufted-$8,000

Female Black Cap or Tufted- $8,500

Female White Face $8,750

Male White Face- $8,250

Cinnamon Capuchins- Please call for price

Brazilian Capuchins - Males and Females- Please call for pricing.

NO HYBRIDS EVER.. ONLY PUREBRED CAPUCHINS AVAILABLE FOR PLACEMENT!

All babies have a complete Veterinary physical exam, negative T.B. test, negative fecal exam, and come with a baby bottle, formula, pet carrier, diapers, USDA ownership papers, and a Veterinary Health Certificate all included for one price plus the ultimate in human bonding and socialization done at a unique professional level.

Direct pick-up from our loving monkey home to yours!

Thanks!
For more information contact German or Rick at 832-370-2824 or capuchinworld@att.net (located in Texas)
We breed Common and Pensillata and Geoffrey Marmoset monkeys.they are known as finger monkeys,pocket monkey. we also sell golden handed,(red handed)tamarins We have hand fed babies AND BREEDERS available year round. The babies are bottle fed by us and are totally tame. They are pre-sold before they are born. They come with starter food and training for you if needed. They are all guaranteed healthy. We are one of the largest breeders in the state. $3,900 YES WE DO SHIP ANYWHERE IN THE UNITED STATES.




VISIT US ONLINE AT POGGI'S ANIMAL HOUSE


When you purchase a pet marmoset monkey or tamarind directly from us you will be invited to our home, which is a clean and well cared for USDA licensed facility in good standing with the USDA.

We will Assist in educating you with all the concerns and needs of all Primates you purchase insuring a happy and successful future with your new friend.

We have and will provide you Upon request references of many happy customers. This will give you the peace of mind you need due to all of the fraud committed on line in the exotic animal business.






VISIT US ONLINE AT POGGI'S ANIMAL HOUSE



Contact us through our website at http://PoggisAnimalHouse.com

VIDEO OF MY BREEDING FACILITY

VIDEO OF ME FEEDING BABY MARMOSET MONKEY

$3,900 for males OR for females. We do ship anywhere in the UNITED STATES.
CONTACT MICHAEL ON OUR SITE AT POGGISANIMALHOUSE.COM/CONTACT OR 954-708-9441

For more information contact Poggi's Animal House at 954-708-9441 or michael@poggisanimalhouse.com (located in Fort Lauderdale Florida)

For more information go to poggisanimalhouse.com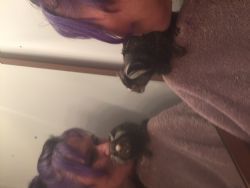 updated September 24th, 2016
. ThatDamnMonkey.com
The easiest way to contact us is via text.
904-349-2699
Kathy and Carla Brycer
Infants available and ready to go now😁

We have black and white tufted marmosets due very soon. All infants $3000

Black tufted due any day - Vajayjay and Loach
** one spoken for

White tufted due soon-( beautiful high silver cotton ball white tufts) Dottie and Spanks
** one spoken for

White tufted due soon ( great pair, laid back friendly babies reliably) Buddy and Holly

One male 8 weeks old, with me all the time. We're letting him go for $2000 because he needs to be bonding wi his forever family and we have more on the way soon. Picture above:) ( SPOKEN FOR- welcome to the family Jojo)

OUR RELATIONSHIP with you BEGINS when you pickup your baby.Any breeder is happy to answer questions before. It's after the baby goes home that makes the difference. Please ask any of our monkey mommies and daddies, were with you for the many years of questions that may come.

We are THE after care girls. When you get a baby from us you're forever in the TDM family. We will get you set and ready to take your new baby home and be with you every step of the way for any needs.

Look us up on Facebook - Kathy Brycer. Feel free to ask around. Our reputation speaks for itself. Looking forward to hearing from you. 904-349-2699
For more information contact Kathy at 904-349-2699 or Marmosetlife@yahoo.com (located in Jacksonville Florida )
For more information go to ThatDamnMonkey.com
Sew Simply Monkey has been providing diaper covers, clothes & accessories to monkey moms & dads since 2001. Sew Simply Monkey has been creating & designing monkey clothes to fit the specific needs of monkeys.

Diaper Covers to fit 5 week old marmosets to the fully developed older capuchin or java monkey, SSM prides itself in providing well constructed and durable clothing for your primate. Also available are waist collars/leases,shirts and pants. Special Order items are always welcome

Quality products and superior customer service are Sew Simply Monkey!

Visit www.sewsimplymonkey.com and take advantage of the 10% discount when you add to your shopping cart.Check out what I have to offer!

I do not sell monkeys!

April 1, 2016 Starts my 17th year as a small business owner! You know you're getting great service from me!
I welcome the opportunity to serve you and Thank You for your continued patronage! Let's get to work and design an outfit just for your special monk
Price: Clothing Only
For more information contact Julie Staup at 407-286-2125 or Juelforyou@aol.com (located in Central Florida)
MANY BREEDERS AGREE:

If You Are Going To Drive And Pick Up A Baby Monkey
For Thousands of $$$$$$,
Then Spend $12.95 on The Baby Book
And Read This Helpful Book!

Take Advantage (Now) of Mary Lynn's 25 years of experience in giving homes to many re-homed monkeys.

Please spend the $12.95 with your Paypal account to order this simple to read and understand pet monkey caregivers book. It is easy to order and get downloaded immediately from livingwithmonkeys.com. Enjoy this informative site and get your free sample pages.

All of your best breeders wish for you to be successful with their "Baby Monkeys."

For more information contact us at www.livingwithmonkeys.com
Hello I am Omar Villarreal owner of hundreds of monkeys and friends with thousands of monkey people. I currently have 2 babys available 1 green monkey female $4,000 and 1 Squirrel monkey female $5,000 call (956)867-3942
All babys come with USDA Paperwork and detailed explanation of current and future care. Delivery is also available by a USDA transporter.

Baby squirrel monkey female $5,000
(Last one for 2016)

Call (956)8673942
Price: $5000
For more information contact Omar Villarreal at 9568673942 (located in McAllen Tx )
Black and White Capuchin baby--GOYETTE EXOTICS has a beautiful baby Capuchin available now. MALE on the bottle and wearing diapers he will come with health papers and USDA paper work..he must be picked up at my facility in South Florida or we can put you in touch with a USDA transporter to bring him to your front door...male $8,000,,,, you can check our place out at www.goyetteexotics.com or CALL 561-795-3663

We only have black & white// white face capuchin baby's available.. (no black-caps at this time.) CALL 561-795-3663
Price: $8,000
For more information contact Sherry at 561-795-3663 or goyetteexotics@yahoo.com (located in South Florida)
We can never be held responsible for the above "Monkey for sale" ads. By replying to one of these ads, you take FULL responsibility. NEVER pay cash money.  When cash money is required, use a money order to make sure you have proof of sale.  Always pick up your monkey at the location of the owner.  A health certificate from a vet should be delivered to make sure you are buying a healthy primate.  Success!
SELLING A PRIMATE?  Create your ad